If you'd like to talk to us about any of the work we've done for our clients please call +91-9810398680 or email us and we'll be happy to tell you more.
9 Jul 2013 | No Comments | posted by admin | in Websites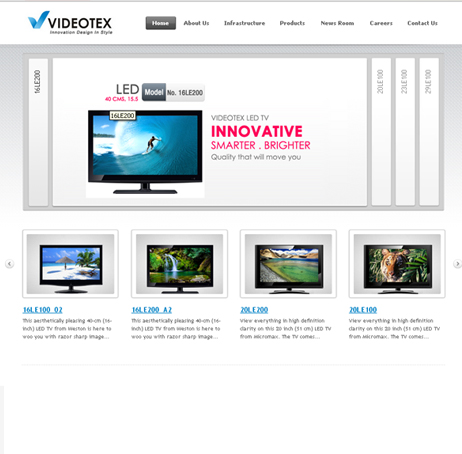 We understand the pulse of the consumer and hence constantly invest into strengthening the product portfolio though R&D and innovative marketing strategies.
Videotex International Private Limited, previously known as "Bholi Electronics Pvt Ltd", the Company had started in the year 1984 in Ludhiana in Punjab, manufacturing B&W television sets as an Original Equipment Manufacturer (OEM) to other companies. After gaining good market share in B&W television sets, the Company had forayed into Colour TVs in 1991 as an OEM. From that small beginning, the Company made itself known as a reliable name in OEMs for TVs.aving manufactured quality TVs for other companies, the Company decided to start promoting its own products and had started selling its own TV sets under the brand name "Videotex" in Greater Punjab in 1996.
In the same year, the Company rechristened itself as "Videotex International Pvt Ltd", giving itself a customer facing identity and image. It is during this period that the Company secured its position as a solution provider in the TV Industry by manufacturing OEM motherboards at its new manufacturing facility in Noida, Uttar Pradesh.
With technology & quality as the prime drivers, the Company continued to strengthen its position and further expanded its operations by commissioning its 3rd and 4th factories in Greater Noida and Parwanoo in Himachal Pradesh in 2008. In the same year, the Company had gone international and opened its overseas office in Shenzhen in China.
As business today is all about an impeccable mix of technology, innovation, quality and cost, we at Videotex believe in total business transparency with the sovereign importance being given to our business partners or customers at every level of performance. One of our major strengths is an exemplary bondage and strong relationship with our business partners in pursuit of excellence. If it were anything less, it wouldn't be us !
Please Click here to logon to Cargo Motors Coroporate Website