If you'd like to talk to us about any of the work we've done for our clients please call +91-9810398680 or email us and we'll be happy to tell you more.
29 Aug 2012 | No Comments | posted by admin | in Websites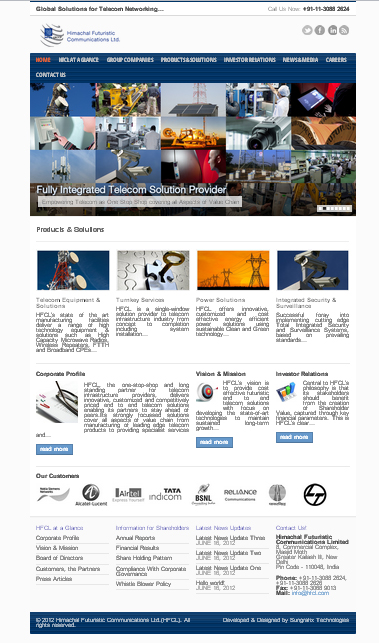 HFCL, the one-stop-shop and long standing partner for telecom infrastructure providers, delivers innovative, customized and competitively priced end to end telecom solutions enabling its partners to stay ahead of peers. Its strongly focussed solutions cover all aspects of value chain from manufacturing of leading edge telecom products to providing specialist services and infrastructure to its customers.
Driven by a well experienced versatile management team at the helms, as a fully integrated telecom solution provider, HFCL's operations include telecom equipment and solutions, turnkey services and power management solutions. HFCL has also forayed in integrated security and surveillance solutions.
Please Click here to logon to HFCL(under construction) Coroporate Website