If you'd like to talk to us about any of the work we've done for our clients please call +91-9810398680 or email us and we'll be happy to tell you more.
9 Jul 2013 | No Comments | posted by admin | in Websites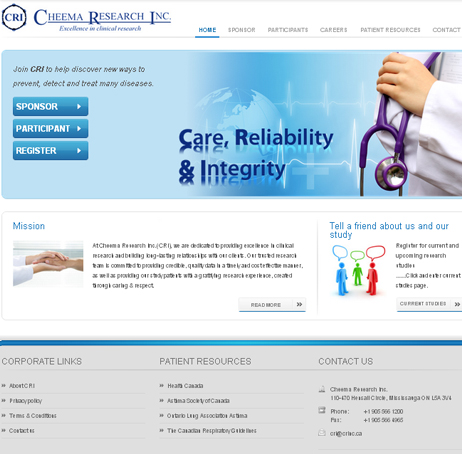 Cheema Research Inc (CRI) consists of a dedicated team of medical, regulatory and scientific professionals who are committed to improving quality of life through clinical research. CRI strives to meet the needs of study volunteers, sponsors, investigators and ethical boards while conducting quality clinical trials in a professional setting. Our trusted team members are committed to fostering a culture of excellence built upon Care, Reliability and Integrity, providing both expertise and excellent service in the achievement of research goals.
Located in the Greater Toronto Area, CRI is a growing clinical research site. First established in 1996 as Clinical Research Group 2000, it was incorporated ten years later as Alpha Medical Research. In mid 2012, the name of the corporation was changed to the current Cheema Research Inc.
CRI is a leader in providing quality clinical and healthcare services in partnership with pharmaceutical and biotechnology companies. Over the years, we have successfully executed over one hundred Phase II-IV clinical trials in varied and diverse therapeutic areas including seasonal & perennial allergic rhinitis, cat dander induced allergic rhino-conjunctivitis, asthma, COPD, type II diabetes, acute & chronic sinusitis, influenza and irritable bowel syndrome. CRI has established a reputation for fast-track subject recruitment as well as generating consistent, accurate and reliable research data. Our current focus is the discovery of new treatments for specific allergies and/or related diseases, as well as respiratory diseases such as asthma.