If you'd like to talk to us about any of the work we've done for our clients please call +91-9810398680 or email us and we'll be happy to tell you more.
29 Aug 2012 | No Comments | posted by admin | in Websites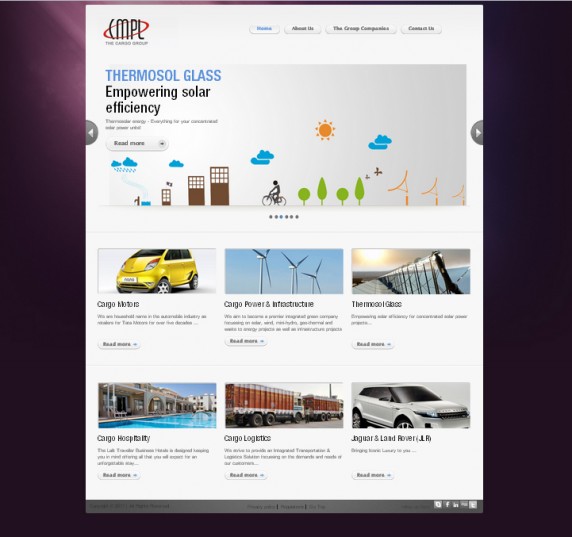 Cargo Motors Pvt Limited, (CMPL) has been associated with Tata Motors for the last fifty years. We commenced operations selling commercial vehicles in the Kutch region of Gujarat after our Founding Chairman was awarded the dealership in 1959. Since then we have expanded our territories into Punjab and Rajasthan and have a state-wide presence in Gujarat. We are the largest selling dealer for Tata commercial vehicles and have also diversified into passenger cars and construction equipment.
To support our existing main business of car dealership, Cargo Logistics was set up as a venture into the car transportation business to maintain our leadership in selling maximum numbers of Telco cars with focus on enhanced customer service with uninterrupted supply chain. To leverage on the growing Indian economy and development of infrastructure, Cargo Motors has added a new wing to its services "Integrated Transportation & Logistics Solution: to focus on the demands and needs of the customer". The company is also involved with Chassis Transportation Ex. Pune & Ex. Tata Nagar. We are authorized transporters for TATA Motors, Honda , The Vardhman Group, etc.
The New Wing is currently engaged in transportation of automobiles & also providing complete logistics solutions across India for its prestigious customers. It has always moved ahead with the paramount objective – to organize and streamline cargo transportation industry in India. We value our clientele and always aim to provide world-class service and customer satisfaction.
Please Click here to logon to Cargo Motors Coroporate Website