If you'd like to talk to us about any of the work we've done for our clients please call +91-9810398680 or email us and we'll be happy to tell you more.
29 Aug 2012 | No Comments | posted by admin | in Websites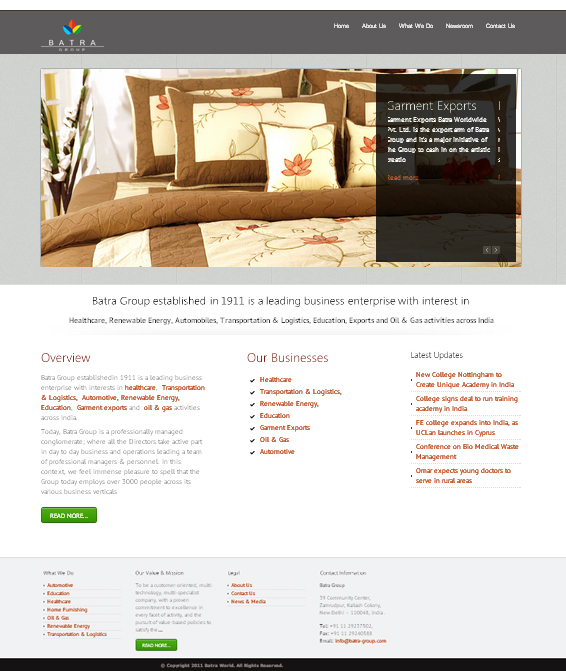 Batra Group is an Indian multi-dimensional conglomerate company, headquartered at New Delhi, India. Founded in 1911, the Batra group is a National brand that has its operations in seven business sectors including:
Healthcare
Automobiles
Renewable Energy
Transporation & Logistics
Education
Oil $ Gas
Garments Export
The Group's strong values and sound business strategies have ensured its steady growth, which has been marked with strategic expansion in various facets of the Indian economic scene. The Group's USP lies in the effortless but effective coordination between the management and the 3000 strong employee base, which has resulted in the achievement of laudable business feats.
Never deterred by the ever-swinging business markets, the Group's vision is to establish India-wide business operations on an unparalleled scale and entrench its hold as an Indian global business leader based upon Indian ethics and professional morals. With ambitions beyond the horizon, innovative business approaches and unshakeable professional ethics are propelling the Group towards its goals and aspirations.
Please Click here to logon to Batra- Group Coroporate Website