If you'd like to talk to us about any of the work we've done for our clients please call +91-9810398680 or email us and we'll be happy to tell you more.
29 Aug 2012 | No Comments | posted by admin | in Websites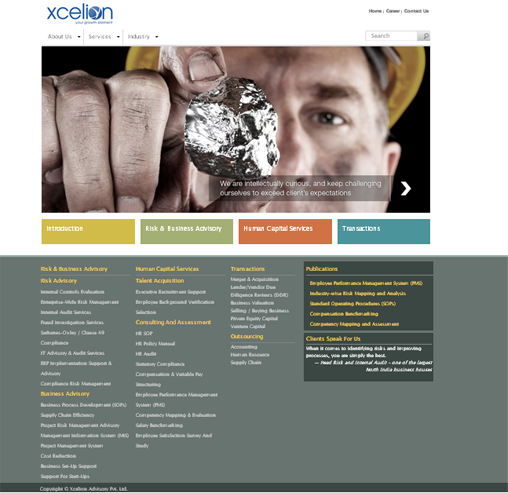 We support clients in formulating and executing strategies, improving process efficiencies, strengthening internal controls, and developing human capital; enabling them to grow revenue, improve margins and sustain growth.
At virtually every stage of a business, management faces challenges and changes;. how well and quickly management responds to the challenges and the changes decide fate of the Company. We at Xcelion are committed to provide sincere support to our clients at every stage of their business to successfully respond to the challenges and the changes through our practical and effective solutions driven with industry insights, experience with successful management and entrepreneurs, and expert solution knowledge.
Xcelion is formed by qualified professionals: MBAs, Chartered Accountants, Human Resource Specialists, Engineers, Economists, and Information Technology Specialists; coming from different backgrounds, education, industries and services.
With offices in Delhi NCR and Mumbai, India – the two corporate hubs of the country – we have came a long way from 4 people in 2010 to 40 today; and growing stronger day by day.
Please Click here to logon to Xcelion Advisory Coroporate Website