If you'd like to talk to us about any of the work we've done for our clients please call +91-9810398680 or email us and we'll be happy to tell you more.
8 Jul 2013 | No Comments | posted by admin | in Websites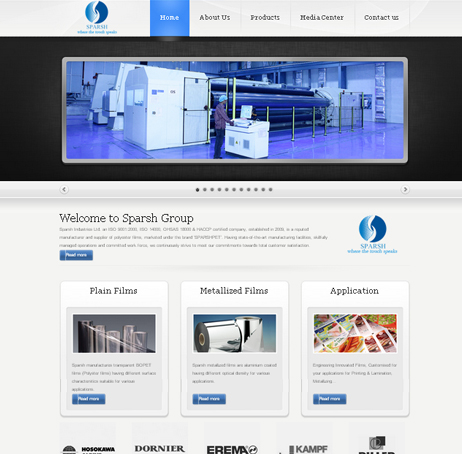 Sparsh Industries Ltd. an ISO 9001:2000, ISO 14000, OHSAS 18000 & HACCP certified company, established in 2009, is a reputed manufacturer and supplier of polyester films marketed under the brand 'SPARSHPET'. With state-of-the-art manufacturing plant and committed work force, we continuously strive to meet our commitment towards total customer satisfaction.
The company is equipped with R&D and Testing facilities, for process innovations and product development. SPARSH is committed towards creating a culture of excellence through the people development and employee friendly approaches.
Sparsh Industries ensures good and trustworthy relationship with their customers, associates and business partners. We are committed to work on new ideas and solutions for our customers in line with their needs and requirements
Please Click here to logon to Cargo Motors Coroporate Website