If you'd like to talk to us about any of the work we've done for our clients please call +91-9810398680 or email us and we'll be happy to tell you more.
9 Jul 2013 | No Comments | posted by admin | in Websites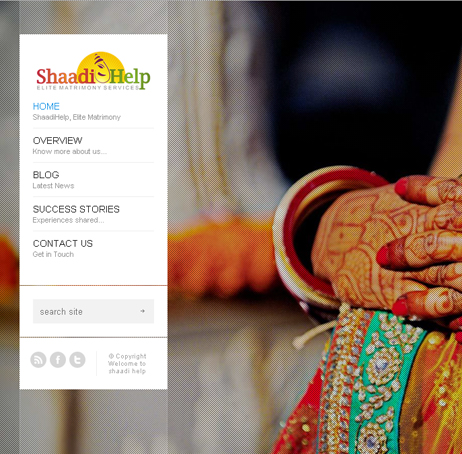 Finding a suitable match had always been an uphill task. Requesting Panditji's, neighbours, relatives or friends for eligible bachelors. It used to be a time taking process and finding the right soul mate was never guaranteed. On top of it, some of the matches suggested turns out to be damp squibs,rather than a dream-come-true. The entire process was very tiring & frustrating.
The world of internet has changed our life style and brought the entire world very close. It has also made it easier for us to choose the right soul mate through various online matrimonial sites. The use of fingers now brings you one step closer to your dream partner.
ShaadiHelp is a matrimonial site which helps all the eligible bachelors for online search of the life partner amongst all professions, castes & religions from any part of the world. You have to just register yourself by completing the profile step by step. This will enable you to search your life partner and will permit others to have a look on your profile. Our match making team will also start suggesting profiles of appropriate to-be brides/grooms on your Email ID.
Searching for your soul mate is easier now. So, stop thinking and start acting. So many eligible, prospective matches are waiting for you. Get going and click on the register button now. We are one of the most experienced free matrimonial service providers in India today.All of our services are free and you will not be asked for any payments. We believe matrimonial services should be available to all Indians, regardless of religion, caste, background or wealth.
Please Click here to logon to Cargo Motors Coroporate Website