If you'd like to talk to us about any of the work we've done for our clients please call +91-9810398680 or email us and we'll be happy to tell you more.
7 Aug 2011 | No Comments | posted by admin | in Websites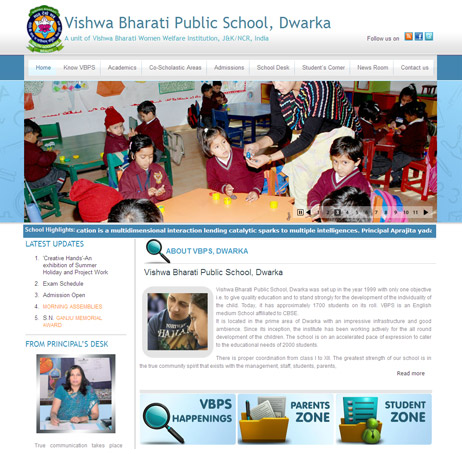 Vishwa Bharati Public School, Dwarka was set up in the year 1998 with only one objective i.e. to give quality education and to stand strongly for the development of the individuality of the child.Today, it has approximately 1500 students on its roll. VBPS is an English medium affiliated to CBSE.
VIt is located in the prime area of Dwarka with an impressive infrastructure and good ambience. Since its inception, the institute has been working actively for the all round development of the children. The school is on an accelerated pace of expression to cater to the educational need of 300 students.
VThere is proper coordination from class I to X. The greatest strength of our school is in the true community spirit that exists with the management, staff, students, parents, children and our well wishers. Our objective is not to mould but to help the individual grow and develop into a socially good and creative human being, free to make his or her own choices in life. Our motto emphasizes character building service and sacrifice.
Please Click here to logon to VBPS Dwarka Website