If you'd like to talk to us about any of the work we've done for our clients please call +91-9810398680 or email us and we'll be happy to tell you more.
8 Jul 2013 | No Comments | posted by admin | in Websites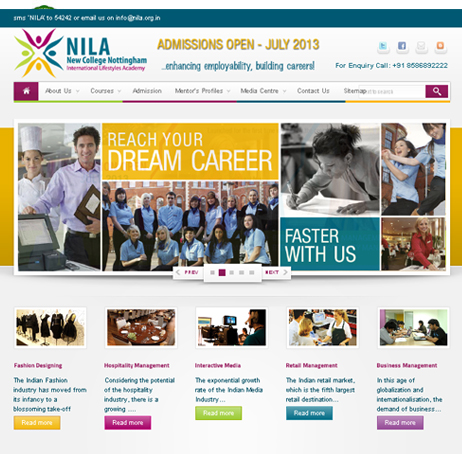 New College Nottingham International Lifestyles Academy (NILA) is a unique enterprise underlining the growing need for global collaboration between educational institutions.Our courses in Hospitality Management, Interactive Media, Retail Management and Fashion Management emphasise on the current industry trends, to help our students bridge the Skills gap, in terms of the required expertise and professionalism. At NILA, we make sure that every student is not only thorough with theoretical knowledge, but also has complete hands-on training to give them the best employment opportunities in their chosen field.
Partnering with the best
Our academic partner, New College Nottingham (ncn,) is one of the largest Further and Higher Education Colleges in the UK with a wide range of full and part-time study programs. It operates across five campuses and has a wide presence in numerous communities and businesses across UK. ncn offers highly focused vocational education programs to help enhance a student's employability.
ncn has always believed that 'excellence, employability and enterprise' are the building blocks to any successful career. Over time ncn has been working with partners, to create an entrepreneurial society. A focus on enterprise strategy enables ncn to energise their links with local schools, communities and employers and also underpin a differentiated higher education to enhance the student's employability within a short period of time.
Under the astute guidance of both BWI and ncn, NILA mirrors the fundamental principles of 'enhancing employability, building careers'. It aims to help students and faculty, uphold their values to be of benefit to society.
Please Click here to logon to Cargo Motors Coroporate Website