If you'd like to talk to us about any of the work we've done for our clients please call +91-9810398680 or email us and we'll be happy to tell you more.
29 Aug 2012 | No Comments | posted by admin | in Websites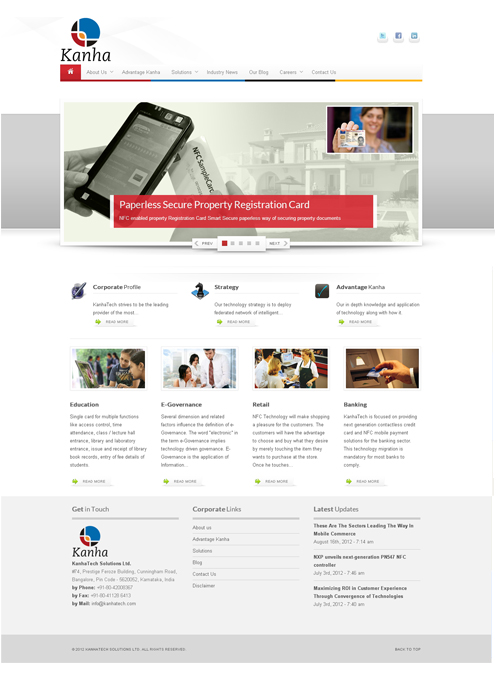 KanhaTech strives to be the leading provider of the most secured NFC (Near Field Communication) technology solutions  for m-Commerce and m-Governance to Government and commercial customers worldwide. Kanha specializes in delivering managed technology services to our customers on a Build, Operate and Transfer business model with Software As A Service or transaction based or per tag or card based revenue models. Kanha provides enterprise class, multi-modal cryptographic authentication frame work to enhance transport layered security and operational efficiency in online or offline mobile transaction modes.
Through technology brokering, Kanha has created a world-class technology portfolio, including own patented products and customized business solutions. Moreover, our skills in deploying these technologies to solve complex problems like securing cashless financial transactions, positive identity management, preventing counterfeit products and secured supply chain management, ensures that we are a trusted partner of many of the world's leading Financial institutions, Tele-operators, Retail chains, Small and Medium Businesses and Government Agencies.
We at Kanha, endeavor to deliver several possible m-Commerce and m-Governance applications to enhance and make our day to today life easier and enjoyable. Our innovative applications are designed to thrill and endear end users with the simplicity and usability giving complete control over how you want to shop in retail store, buy genuine product with confidence and manage online e-Commerce transactions within a completely secured infrastructure. Our objective is to proliferate contactless authentication technology and eliminate any possibility of fraud thus create a cash less environment where in the clients are in completely control of theirdecisions.
Please Click here to logon to Kanha Coroporate Website