If you'd like to talk to us about any of the work we've done for our clients please call +91-9810398680 or email us and we'll be happy to tell you more.
29 Aug 2012 | No Comments | posted by admin | in Websites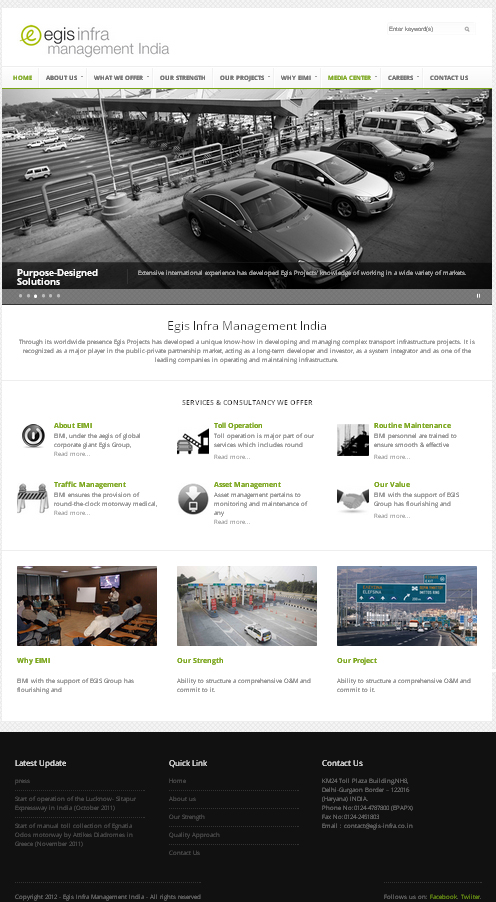 EIMI, under the aegis of global corporate giant Egis Group, is an industry leader in road & tolling operations, collections systems, infrastructure / equipment(s) / asset(s) management & maintenance, traffic & safety management, etc.
In India, Egis Infra Management India (EIMI) is a JV between Egis Road Operation, France and DSC Limited, India.
As a part of the Group's ever-expanding corporate horizons, EIMI was incorporated in 2010 to venture into Indian motorway and toll operation market.
EIMI is determined to offer Appropriate Operating strategy and Maintenance Services on Indian highways. EIMI's services, while being in conformity with worldwide industry standards, are matchless in Indian motorway conditions & operability scenarios. EIMI's impeachable credibility as an independent and transparent road operator enables it to plan, strategize, execute, maintain and supervise road operations on pan-India basis. EIMI has inculcated a blend of international work experience and Indian professional etiquette to usher the dawn of a new era in road maintenance & operations in India.
Please Click here to logon to Egis-infra Coroporate Website